Stomatološki materijali - DENTAL MATERIALS
Zubotehnički materijali - LABORATORY MATERIALS
Predmeti opšte upotrebe - GENERAL PURPOSE PRODUCTS
Dezinficijensi i hemikalije - DISINFECTANTS AND CHEMICALS
Voskovi za lepljenje – Sticky wax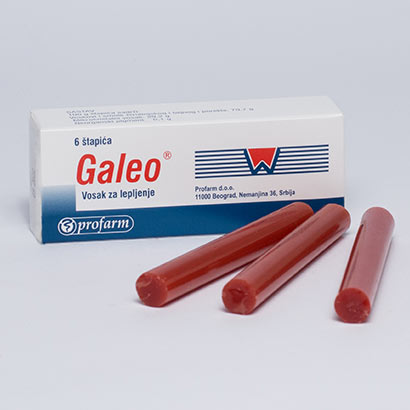 GALEO®
Opis:
Vosak za lepljenje
Pakovanje:
Kutija sa 6 voštanih štapića za lepljenje.
Indikacije / namena:
lepljenje delova pri sastavljanju gipsanog modela;
lepljenje metalnih krunica i tela mosta pri ulaganju za lotovanje;
lepljenje polomljenih akrilatnih proteza pri reparaturi;
lepljenje polomljenih modela i za ostale brojne potrebe, kako u zubnoj tehnici, tako i u stomatološkoj ordinaciji
GALEO®
Description:
Sticky wax
Packaging:
A box with 6 wax sticks for bonding.
Indications / Purpose:
as an adhesive joining together the pieces of plaster models;
for adhesion of metal crowns to the bridge body when inserting for soldering;
as an adhesive for broken acrylic dentures that are under reparation;
for adhesion of broken models and it has other numerous applications for dental technology and in dental surgery.