Stomatološki materijali - DENTAL MATERIALS
Zubotehnički materijali - LABORATORY MATERIALS
Predmeti opšte upotrebe - GENERAL PURPOSE PRODUCTS
Dezinficijensi i hemikalije - DISINFECTANTS AND CHEMICALS
Otisni materijali – Impression Materials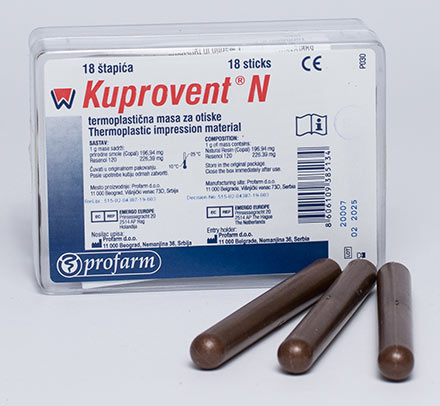 KUPROVENT® N
Opis:
Termoplastična masa za otiske
Pakovanje:
Kutija sa 18 termoplastičnih štapića.
Indikacije / namena:
formiranje ventilnog ruba pri uzimanju funkcionalnog otiska bezubih vilica;
korigovanje individualnih kašika.

Karakteristike:
produžena plastična faza, zahvaljujući prisustvu metalnih čestica;
lako formiranje preciznog ventilnog ruba.

UPUTSTVO ZA UPOTREBU
SDS
KUPROVENT® N
Description:
Thermoplastic impression material
Packaging:
A box with 18 thermoplastic sticks.
Indications / Purpose:
formation of a vent margin in functional impressions of edentulous jaws;
correction of individual trays.

Characteristics:
prolonged plastic phase owing to the presence of metal particles incorporated;
easy formation of vent margin.
INSTRUCTION FOR USE
MSDS