Stomatološki materijali - DENTAL MATERIALS
Zubotehnički materijali - LABORATORY MATERIALS
Predmeti opšte upotrebe - GENERAL PURPOSE PRODUCTS
Dezinficijensi i hemikalije - DISINFECTANTS AND CHEMICALS
GingiPro – GingiPro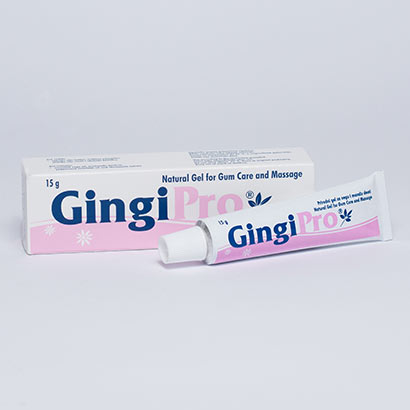 GINGIPRO®
Opis:
Gel sa priprodnim aktivnim sastojcima za negu i masažu desni
Pakovanje:
Tuba sa 15g gela.
Indikacije / namena:
nega desni kod osoba sklonih zapaljenju desni, nastalih zbog gingivitisa, parodontopatije, naslaga kamenca i drugih uzročnika;
pogodan je i za primenu u okviru stomatoloških intervencija, kao što su:
- predaja i period nakon predaje mobilnih zubnih nadoknada (totalne i parcijalne proteze);
- predaja fiksnih protetksih zubnih nadoknada (krunice i mostovi);
- nakon brušenja zuba za fiksne protetske radove.

Karakteristike:
održava desni zdravima;
neguje i povoljno utiče na sluzokožu gingive;
umiruje iritiranu sluznicu;
deluje adstrigentno;
ima umirujući efekat hlađenja;
pomaže u prevenciji infekcija desni.

UPUTSTVO ZA UPOTREBU
SDS
GINGIPRO®
Description:
Gel with natural active ingredients for gum care and massage
Packaging:
A tube with 15g of gel.
Indications / Purpose:
gum care in patients exhibiting obvious symptoms of gums inflammation caused by gingivitis, periodontal disease, accumulated tartar and other;
suitable for use in the context of stomatological interventions, such as:
- during and period after the placement of mobile prosthetic restorations (total and partial dentures);
- placement of fixed prosthetic restorations (crowns and bridges);
- after teeth trimming for fixed prosthetic restorations.

Characteristics:
maintains gum health;
nourishes and favorably affects the gingival mucosa;
soothes irritated mucous membranes;
acts astringent;
acts mildly cool;
helps prevent gum infections.

INSTRUCTION FOR USE
MSDS