Stomatološki materijali - DENTAL MATERIALS
Zubotehnički materijali - LABORATORY MATERIALS
Predmeti opšte upotrebe - GENERAL PURPOSE PRODUCTS
Dezinficijensi i hemikalije - DISINFECTANTS AND CHEMICALS
Endodontski materijali – Endodontic Materials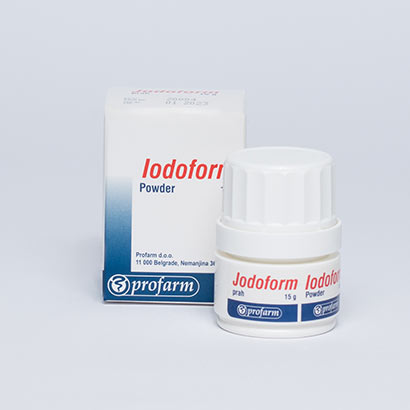 JODOFORM
Opis:
Iodoformium
Pakovanje:
Bočica sa 15g praha.
Indikacije / namena:
kao farmaceutska hemikalija, Jodoform prah se koristi u stomatologiji za pripremu mekih, resorptivnih pasta, neposredno pre upotrebe;
mešanjem Jodoform praha sa hlor-fenol-kamfor rastvorom dobija se WALKHOFF-ova (jodoform-hlorfenol-kamfor-mentol) pasta, a mešanjem sa rastvorom Chlumsky, dobija se slična jodoform fenolkamfor pasta.

JODOFORM
Description:
Iodoformium
Packaging:
A jar with 15g of powder.
Indications / Purpose:
as pharmaceutical chemical, Jodoform powder is used in dentistry for the preparation of soft, absorptive paste, immediately before its use;
mixing Jodoform powder with chlorphenol-camphor-menthol-based solution results in obtaining WALKHOFF paste, while mixing Jodoform with Solution Chlumsky solution results in obtaining a similar iodoform phenol-camphor paste.