Stomatološki materijali - DENTAL MATERIALS
Zubotehnički materijali - LABORATORY MATERIALS
Predmeti opšte upotrebe - GENERAL PURPOSE PRODUCTS
Dezinficijensi i hemikalije - DISINFECTANTS AND CHEMICALS
Cink Oksid – Zink Oxide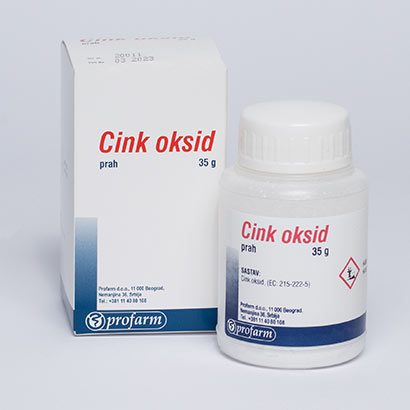 CINK OKSID
Opis:
* INCI naziv: Zinc Oxide
Pakovanje:
Teglica sa 35g praha ZnO.
Indikacije / namena:
beli prah, bez mirisa, stabilan na uticaj svetlosti;
pH vrednost: 7,1 – 7,5
delovanje: antiseptik, antimikotik, absorbent UV zraka

CINK OKSID
Description:
* INCI name: Zinc Oxide
Packaging:
A jar with 35g of ZnO powder.
Indications / Purpose:
white powder, odorless, stable to light;
pH value: 7.1 - 7.5;
action: antiseptic, antifungal, UV absorber.