Stomatološki materijali - DENTAL MATERIALS
Zubotehnički materijali - LABORATORY MATERIALS
Predmeti opšte upotrebe - GENERAL PURPOSE PRODUCTS
Dezinficijensi i hemikalije - DISINFECTANTS AND CHEMICALS
Dezinficijensi gel – Dezisept Gel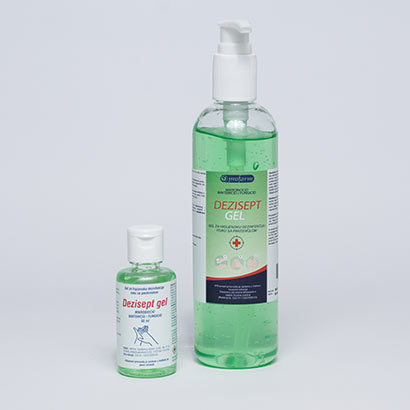 DEZISEPT GEL
Opis:
Univerzalni dezinficijens iz grupe mikrobiocioda i fungicida
Pakovanje:
* Pojedinačno: - bočica sa 50ml gela; - bočica sa 100ml gela; - boca sa 300ml gela; - boca sa 1L gela; - canister sa 3L gela.
Indikacije / namena:
higijenska dezinfekcija ruku zdravstvenog i farmaceutskog osoblja; zaposlenih u prehrambenoj industriji; ugostiteljstvu; školstvu; u svakodnevnoj kućnoj upotrebi.
Karakteristike:
jedinstvena formulacija sa dve aktivne komponente (etanol; vodonik peroksid - preporuka SZO), obezbeđuje veoma širok spektar mikrobiocidnog i fungicidnog delovanja;
brzo ispoljavanje mikrobiocidnog delovanja (već nakon 30sec), uz neophodne minimalne količine –3-5ml;
formulacija sa pantenolom obezbeđuje dodatnu negu ruku.

UPUTSTVO ZA UPOTREBU
SDS
DEZISEPT GEL
Description:
Universal disinfectant from the microbiocide and fungicide group
Packaging:
Separately: - a bottle of 50ml of gel; - a bottle of 100ml of gel; - a bottle of 300ml of gel; - a bottle of 1L of gel; - canister of 3L of gel.
Indications / Purpose:
hands disinfection of the medical and pharmaceutical staff; employees in the food industry; catering; school institutions; for everyday home use.
Characteristics:
the unique formulation with two active components (Ethanol; Hydrogen Peroxide – WHO recommendation), provides a wide range of microbiocidal and fungicidal action;
rapid manifestation of microbiocidal action (after only 30sec), with a minimal necessary amounts – 3-5ml;
formulation with panthenol provides additional hand care.

INSTRUCTION FOR USE
MSDS