Stomatološki materijali - DENTAL MATERIALS
Zubotehnički materijali - LABORATORY MATERIALS
Predmeti opšte upotrebe - GENERAL PURPOSE PRODUCTS
Dezinficijensi i hemikalije - DISINFECTANTS AND CHEMICALS
Retrakcioni materijali – Retraction Materials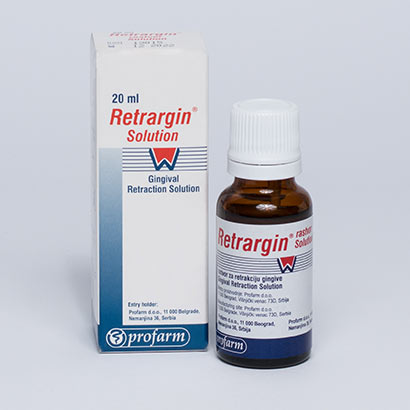 RETRARGIN®
Opis:
Rastvor za retrakciju gingive
Pakovanje:
Bočica sa 20ml hipertoničnog rastvora aluminijum hlorida.
Indikacije / namena:
za brzu i privremenu retrakciju gingive i dobijanje suvog i preglednog radnog polja;
pre uzimanja drugog, korekcionog otiska elastomerima;
pri obradi ivica kaviteta ispod gingive;
pri svim ostalim intervencijama u stomatologiji gde je potrebno smanjenje sekrecije, otvaranje gingivalnog sulkusa i retrakcija gingive.

RETRARGIN®
Description:
Gingival retraction solution
Packaging:
A bottle of 20ml hypertonic solution of aluminum chloride.
Indications / Purpose:
for rapid and temporary gingival retraction and obtaining a dry and clear area;
before taking the secondary, correction impression using elastomers;
in the preparation of subgingival cavity margins;
in all other interventions in dentistry where reduction of secretion, opening of the gingival sulcus and retraction of the gingiva is required.