Stomatološki materijali - DENTAL MATERIALS
Zubotehnički materijali - LABORATORY MATERIALS
Predmeti opšte upotrebe - GENERAL PURPOSE PRODUCTS
Dezinficijensi i hemikalije - DISINFECTANTS AND CHEMICALS
Cementi & lajneri – Cements & Liners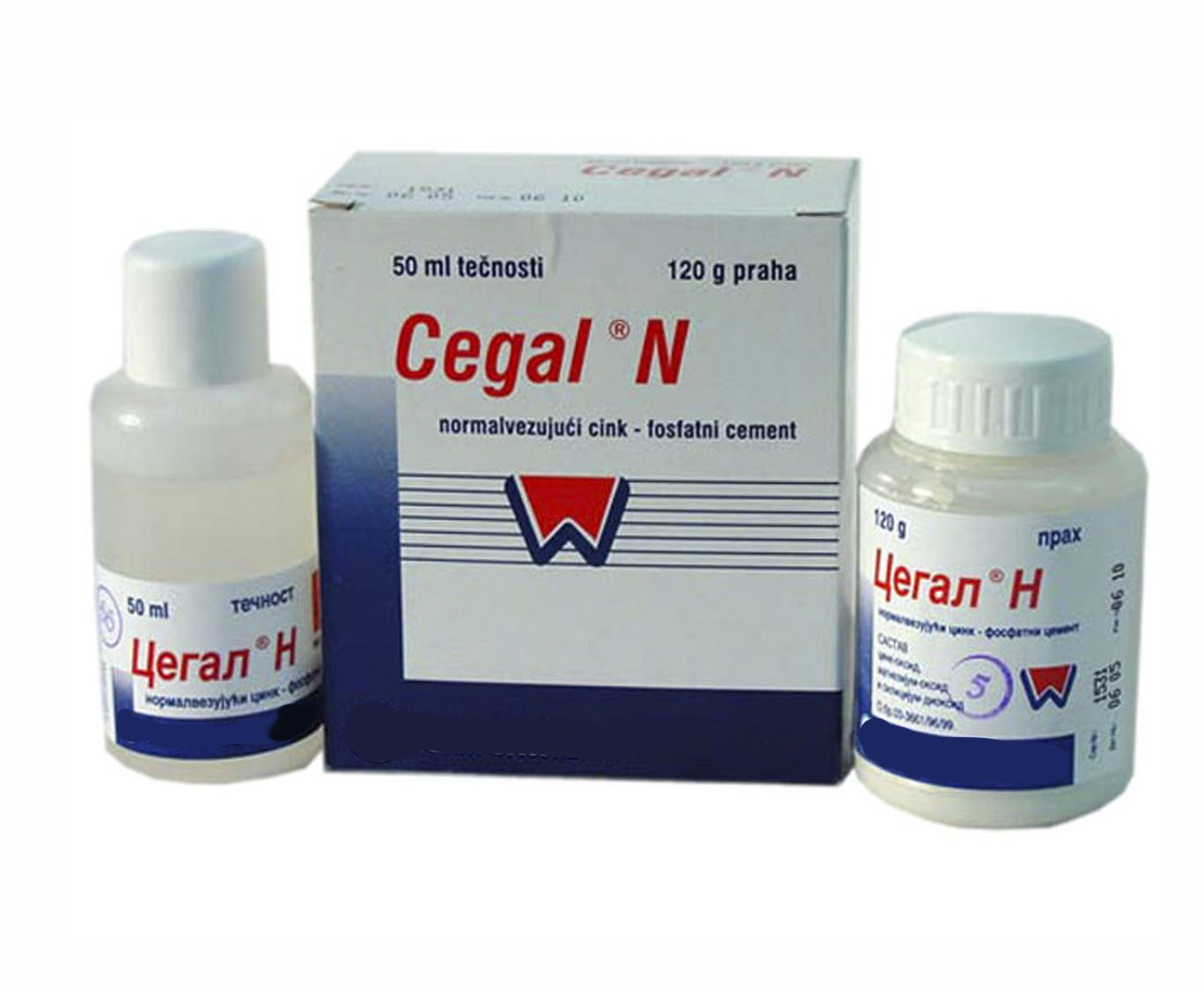 CEGAL® N CEGAL® B
Opis:
CEGAL® N – Normalvezujući cink-fosfatni cement
CEGAL® B – Brzovezujući cink-fosfatni cement
Pakovanje:
Teglica sa 120g praha.
Bočica sa 50ml tečnosti.
Indikacije / namena:
podloga ispod različitih vrsta ispuna;
privremeni ispun;
definitivno punjenje kanala korena zuba;
cementiranje fiksnih protetskih radova.

Karakteristike:
jednostavna priprema i primena;
lepljivost materijala obezbeđuje dobro prijanjanje na nanetu površinu;
odličan hemijski i termički izolator;
mala rastvorljivost.

UPUTSTVO ZA UPOTREBU
SDS
CEGAL® N CEGAL® B
Description:
CEGAL® N – Normal-setting zincphosphate cement
CEGAL® B – Fast-setting zincphosphate cement
Packaging:
Jar with 120g of powder.
Bottle with 50ml of liquid.
Indications / Purpose:
as a liner for different types of fillings;
temporary filling;
final root canal filling;
cementing of fixed prosthetic restorations.

Characteristics:
easily prepared and applied;
the adhesiveness of material ensures good adhesion to the surfaces;
excellent thermal and chemical isolator;
poorly soluble.

INSTRUCTION FOR USE
MSDS